Smoked pork tenderloin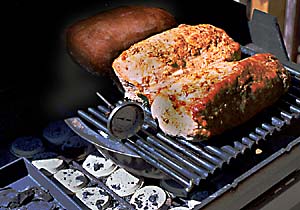 This is my favorite crowd pleaser. It takes all day but the reaction is fantastic.

The secret is the wet smoking technique. I have used a dedicated smoker (easiest) and also modify my regular gas grill as seen in the photo. Above you see a large pan of water (was boiling when I started) and a grill rack set on top of the pan. Also at the lower left, you see the corner of a tray of hickory chips that smolders during the cooking for flavor.

Keep the grill's internal temperature to 200-225 degrees F (95-105 for you Celsius folks). Keeping this temperature and lots of steam from the water (refill as needed) is what makes the meat juicy and makes you a popular chef.

While the meat cooks, make the barbecue sauce - It really tastes great!

Serve on simple white buns with a very simple cole slaw, corn-on-the-cob and baked beans with iced tea. Sit back and take the compliments.

This works for beef brisket too, I just like it best with the pork. Because it is a lot of work, you can cook extra meat, your guests will want some to take home and it makes great sandwiches all week.
---
Meat preparation
1 pork tenderloin (6-8 lb)
3 cloves garlic; minced
1 tablespoon salt
1 teaspoon black pepper
2 teaspoons paprika
1/2 teaspoon cayenne pepper
1/2 teaspoon dried thyme
1/2 teaspoon ground cumin
l teaspoon dried mustard

1. Wash tenderloin. Trim away fat, leaving at most a 1/4-inch-thick layer of fat. Rub garlic
and salt all over. Combine black pepper, paprika, cayenne, thyme, cumin, and mustard; rub mixture to coat meat. Cover with plastic wrap and let rest at room temperature for 1 to 3 hours.

2. Prepare water smoker for smoke cooking. Place meat, fat side up, on the grill. Cover and smoke cook at a temperature between 200o F and 250o F. Add charcoal briquettes, wood, and water as
needed. Meat is done when internal temperature reaches 160 oF to 170 oF (after 3 to 6 hours of cooking).

3. Remove meat to a large platter or cutting board. Let rest 15 minutes before slicing. Serve with heated Pig sauce.
---
Pig Sauce
1/2 cup butter
1 cup onion, finely chopped
1 cup celery, finely chopped
2 teaspoons garlic, minced
1 cup tomato puree'
1/2 cup cider vinegar
1/2 cup firmly packed dark brown sugar
1 cup beef stock
1/4 cup Worcestershire sauce
2 each bay leaves
2 teaspoons cayenne pepper
1 teaspoon ground cumin
2 teaspoons chile powder
salt to taste
1/4 cup plus 1 shot Jack Daniels Old No. 7

In a large non-aluminum saucepan, melt butter and saute' onion, celery and garlic until soft (about 10 minutes). Add remaining ingredients and slowly simmer for about 30 minutes stirring frequently so the sauce doesn't burn.

5 minutes before cooking ends, pour in the Jack Daniels (less cook's share). Allow to rest at least 1 hour before serving. Serve warm.

Makes enough for 4 cups of sauce, just about the right amount.